Exhibition "Forever and Longer"
Back
10:00 am-04:00pm
AUB Art Gallery
The Rose, Khalil & Shaheen Saleeby Art Exhibition
Back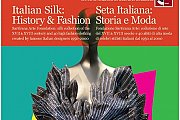 10:00 am-06:00pm
Silk Museum, Bsous
Italian Silk: History & Fashion
Back
10:30 am-06:30pm
atelierG, 43Chamiyeh bldg. (underground floor), Albert Khayat street (facing Hotel Le Gabriel), Ashrafieh, Beyrouth
THE BAZAAR - atelierG
Back
11:00 am-07:00pm
Cynthia Nouhra, Furn El Chebak, Lebanon
"CONTEMPLATION" - Art Exhibition
Back
11:00 am-06:00pm
Maison de l'artisan, Zouk Mikaël
La Soie, caresses de tendresse entre le Liban et le Mexique
Back
11:00 am-08:00pm
Aida Cherfan Fine Art, Place de l'Etoile 62, Hussein el Ahdab Street Sector Najmeh 11 Beirut Central District
Accrochage Collectif - A Collective Artists Show
Back
11:00 am-06:00pm
Sfeir - Semler Gallery, TANNOUS BLDG.- 4th FL. STR.56 - JISR SECTOR 77 - QUARANTINA, Beirut, Lebanon 2077 7209
Gabriel Kuri - my 50% of your 100%
Back
Beirut Sign Exhibition
Back
06:00 pm-09:00pm
Espace Kettaneh Kunigk (Tanit), L'ebeniste, Gefinor center, Bloc E, Ground Floor - Clemenceau - Beirut
Through the lens of ....
Back
06:00 pm-09:00pm
Beirut Art Center
Beirut White Wall Graffiti & Street Art
Back
06:00 pm-11:00pm
Arwam Street & Al-Ajami Square, Beirut Souks, Down Town Beirut
06:00 pm-10:00pm
Agial Art Gallery, 63 Abdel Aziz st. Beirut , Lebanon
"We Need To Talk" - Art Exhibition
Back
06:00 pm-09:00pm
Galerie Janine Rubeiz, 1 Avenue Charles De Gaulle, Beirut, Lebanon
Exhibition "(In) Tolerance" by Ghassan Ghazal
Back
08:30 pm-11:30pm
Nova , Sin El Fil
Parachutes -Unlimited Art- [Act 5]
Back