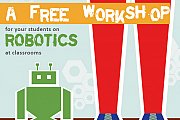 08:00 am-03:00pm
ALL OVER LEBANON
FREE Workshops on Robotics
Back
10:00 am-11:30am
NOK Yoga Shala - Saifi Village
Jivamukti Yoga with Maria
Back
11:30 am-01:00pm
NOK Yoga Shala - Saifi Village
Prenatal/Pregnancy Yoga with Duna
Back
03:00 pm-05:00pm
Carnegie Middle East Center, Emir Bechir Street, Lazarieh Tower, Bldg. No. 2026 1210, 5th flr., Downtown Beirut,
Why Nations Fail: The Origins of Power, Prosperity, and Poverty.
Back
03:30 pm-06:30pm
Origami Academy facing ABC Head Offices, Dbayeh, Lebanon
"Children's Etiquette Series" with Maya at Origami Academy
Back
05:30 pm-07:00pm
Berytech Technology & Health, Damascus Road, Beirut
Why Do we NEVER Keep our New Year's Resolutions?
Back
06:00 pm-08:30pm
GOU, Sofil, Achrafieh, Lebanon
GOU Atelier - Cooking classes
Back
06:00 pm-09:00pm
Mark Hachem Gallery, Capital Garden, Salloum Street, Mina El Hosn, Beirut, Lebanon
Beirut Mutations by Samer Mohdad - Photography Exhibition & Discussions
Back
07:00 pm-10:00pm
Lamba Labs, Armenia Street, Beirut, Lebanon
Build Nights @ Lamba Labs
Back
09:00 pm-01:00am
Dictateur, Mar Mikahel, Beirut
#ARTSTAY - A Recurrent Artistic Get Together
Back