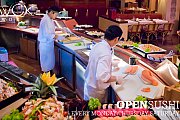 07:30 pm-12:00am
WOK W.O.K., Phoenicia Hotel, Beirut
Open Sushi Night at WOK W.O.K.
Back
11:00 am-12:00pm
Cascade Lounge, Phoenicia Hotel, Beirut, Lebanon
Christmas Chocolate Buffet at Cascade Lounge
Back
10:00 pm-02:00am
Nova Pub, Sin El Fil, Beirut
Last Jam of the year!
Back
05:00 pm-12:00am
LOFT 21, Hamra, Beirut
Mondays: Open wings, wedges, and beer
Back
05:00 pm-11:00pm
Gefinor Rotana and Raouché Arjaan by Rotana
NYE & Christmas Events at Rotana Hotels in Lebanon
Back
05:00 pm-03:00am
Xiao Ciao Bar, Uruguay Street 16, Beirut, Lebanon
Happy Xiao- Happy Mondays!
Back
07:00 pm-12:00am
Revolver, Uruguay Street, Downtown Beirut
Open Sushi night every Monday @ Revolver
Back
09:00 pm-05:00am
STORM Nightclub, Cedars & Stars, Faraya
NYE -2 (Storm Cedars Dec 29) NYE -1 (Stars Faraya Dec 30)
Back
09:00 pm-12:00am
West Ave. Bistro, West House Residence, Souraty Street, Hamra, Beirut, Lebanon
09:00 pm-11:00pm
London Bar, Makdessi Street, Hamra, Beirut
Ladies Night @ London Bar
Back
09:30 pm-02:00am
Al-Mandaloun, Corniche El Nahr, Beirut, Lebanon
Karaoke Night at Al-Mandaloun every Monday
Back
09:30 pm-01:00am
Quadrangle, Hazmieh
Monday Blues Band at QUADRANGLE
Back
09:30 pm-12:00am
Greedy Goose, Monot, Achrafieh, Beirut, Lebanon
Quiz Night at Greedy Goose - Every Monday
Back
09:30 pm-03:00am
Yukunkun, Gemmayze, Rue du Liban, Beirut, Lebanon
SCRAMBLED EGGS Live at Yukunkun
Back