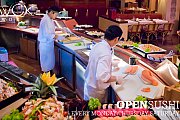 07:30 pm-12:00am
WOK W.O.K., Phoenicia Hotel, Beirut
Open Sushi Night at WOK W.O.K.
Back
09:00 pm-12:00am
Regency Hotel Palace, Adma, Lebanon
The Fady Raidy Show - Season 2
Back
08:30 pm-10:30pm
Chateau Triano, Jal El Dib
"Wara El Bab" - Comedy Play of Georges Khabbaz
Back
09:00 pm-12:00am
PlayRoom, Dora Seaside, Beirut
09:00 pm-05:00am
The Grand Factory, Karantina, Beirut, Lebanon
C U NXT SAT LiVE pres. WAKE ISLAND in concert
Back
09:00 pm-02:00am
Koi . Lounge Sushi Bar , Gemmayze, Beirut
Kara-koi Saturday Night hosted by " Anthony Bernoty "
Back
10:00 pm-04:00am
The Hub, Berytus PArks Bldg, Block A, 1st floor, old mybar- Beirut central district
Hip Hop & RnB at The Hub with MixFM
Back
08:00 pm-12:00am
Titanic Piano Bar, Royal Hotel, Dbayeh
Sushi at Titanic Piano Bar!
Back
09:00 pm-12:00am
LOFT 21, Hamra, Beirut
Opening night: Latin Dancing featuring Bailando Group and Dj Hagop
Back
09:00 pm-03:00am
Beirut, Hamra, Makdessi St, London Bar
Rap & RNB Nights @ London Bar
Back
09:00 pm-12:00am
Olympia, Kaslik
Les Diseurs: Come Back - Theatre Chansonniers
Back
09:30 pm-12:00am
Metro Al Madina, Hamra, Beirut, Lebanon
Hishik Bishik Show | هشك بشك شو
Back
09:30 pm-02:00am
Metro Al Madina, Sarolla Building, Minus 2, Hamra, Beirut, Lebanon
09:30 pm-01:30am
grand hotel naas - bikfaya
Cheese & Wine Night EVERY SATURDAY
Back
10:00 pm-03:30am
Massabki hotel ,Masa Night Club, Chtaura- Zahle
Drink , Dine & Dance at Masa every Saturday
Back