07:30 pm-03:30am
Station Beirut, Jisr El Wati, Beirut, Lebanon
Friends for War Child. The Beirut Edition.
Back
08:30 pm-11:00pm
Al Bustan Hotel, Beit Meri, Mont-Liban, Lebanon
Al Bustan Festival 2015
Back
09:00 pm-01:00am
Mezyan Cafe, Hamra, Beirut
FAT TUESDAYS - LIVE JAZZ with TRANE CENTRAL
Back
07:00 pm-02:00am
Xiao Ciao Bar, Uruguay Street 16, Beirut, Lebanon
Cocktail Pour Elle at Xiao Ciao - Uruguay Street
Back
08:00 pm-12:00am
Central Park, Blueberry Square facing Le Mall, Dbayeh, Lebanon
Cheese, Wine & Cheese Fondue Night - Every Tuesday
Back
08:00 pm-11:30pm
Benihana Le Commodore Hotel
Open Sushi Buffet at Benihana
Back
08:00 pm-12:00am
Titanic Piano Bar, Royal Hotel, Dbayeh
Sushi at Titanic Piano Bar!
Back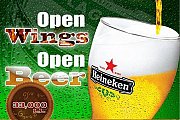 09:00 pm-12:00am
Kudeta Cafe, Rue Badaro, Beirut, Lebanon
Open Wings & Open Beer @ Kudeta Cafe
Back
09:00 pm-01:00am
El Gardel / La Estancia, Gemmayze, Beirut
Bloody Mardi - French Night Every Tuesday at El Gardel
Back
09:00 pm-01:00am
Bali, Jounieh
Karaoke at Bali every Tuesday
Back
09:00 pm-01:30am
Compass Lounge, Hamra, Beirut, Lebanon
Karaoke at Compass - Every Tuesday
Back
09:00 pm-01:00am
Rivoli, Uruguay Street, Downtown Beirut, Lebanon
Latin Night at RIVOLI by A.B.C.Dance
Back