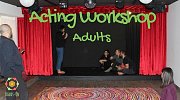 Every Monday, and Wednesday from 08:00 pm until 10:00 pm, Feb 12 2018 to Apr 30 2018

Hands-On, Khairallah Khairallah Street, Achrafieh, Beirut, Lebanon

[See map]
Acting Workshop for Adults with Roger Ghanem

Join Roger for an interactive experience in which you will enhance your acting skills, enrich your body language, improve your communication skills and help you develop strong and flexible personality and discover the best in you.
This course proposes a series of theater exercises that accumulate skills and experiences for 12 sessions resulting in a representation that could be open to a private public.

Roger is an acting coach, actor, casting director, creative writer and director. His expertise varies from theater to interactive learning.

Class Date: Wednesdays, April 4 and 11 then Mondays, April 16, 23 and 30 at 8:00 pm till 10:00 pm

Class Fee: 35,000 LBP/ 1 class and 120,000 LBP/ 4 classes

Age: Adults

Hurry up and book your course; places are limited!

To Register for this course, please call 71-203930 or on www.hands-on-bey.com.

This event is on facebook