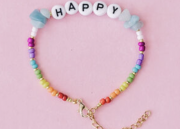 Every Friday from 02:00 pm until 03:30 pm, May 05 2022 to May 31 2022

Alwan Salma, Lebanon

[See map]
Join us to make your very own breaded bracelets!

The sessions are suitable for adults, teens and kids.

Each session is 200,000LL with all materials included.

RSVP is required and we kindly ask that you wear a face mask at our studio and shop at all times to keep yourself and those around you safe.

To sign up or for enquiries, please contact us on WhatsApp 81.874523.