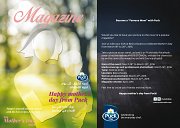 Friday Mar 18 2016 from 06:00 pm until 10:00 pm
Saturday Mar 19 2016 until Sunday Mar 20 2016 from 10:00 am until 10:00 pm

Beirut Souks, Beirut, Lebanon

[See map]
Bring your kids to join the team in celebrating Mother's day from the 18th till 20 of March 2016 in Beirut Souks.

You will be asked to take a picture at our stand, upload it using the hashtag #hereistomom, and get the chance to be on the cover of a magazine for April issue and win 1 ounce of gold!

Winner to be announced on the 21st of March 2016

A media event will be held on 19th of March 2016 from 11:00 am till 01:00 pm.

Feel free to invite a friend and her kids along. Happy mother's day from Puck!