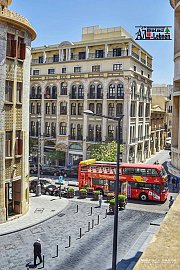 Every Sunday from 11:00 am until 02:00 pm, Feb 06 2022 to Mar 27 2022

Beirut, Lebanon
Beirut Hop on Hop off with Citysightseeing Open Top Double-Decker Bus

Despite all odds, Beirut is the most beautiful city in the world because of its 6000 years of rich history. Hop on & Hop off every Sunday, with your beloved ones and live SAFELY this amazing experience in the open top double decker sightseeing bus, exploring the city from a new perspective, visiting the MIM Museum where you can enjoy the biggest minerals collection in the Middle East, the National Museum and other Beirut historical sites like Raouche enjoying the multilingual audio commentary in 7 languages. Seats are limited, free entrance to all museums & free WIFI and water on board. The tour starts at 11am from Martyrs' Square and ends around 2:30 pm. The complete tour is about 3 hours. All hygiene measures and physical distancing will be respected.

WA Msg or call for booking 76-910165.

This event is on facebook