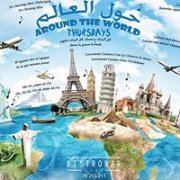 Every Thursday from 05:00 pm until 01:00 am, Jan 07 2016 to Dec 29 2016

BistroBar Live, Makdessi Street, The courtyard, Hamra, Beirut, Lebanon
BistroBar Live HAMRA presents "AROUND THE WORLD THURSDAYS" with DJ Ali Funk.

Join us for a revolutionary night blending all styles of music from around the world in a mix of musical delicacy!

DJ Ali Funk will be mixing the best styles of music from around the globe from Hip Hop, Pop, R'n'B, Funk, House, English, Arabic, French, Spanish, Portuguese... for a night of pure musical madness.

Fasten your seat belts because we are taking you on a musical journey around the world!

Happy Hour from 5-8 PM
50% off on drinks & cocktails.
50% on ALL appetizers & ALL salads
+ "1st drink on us" LADIES SPECIAL

For reservations or more info, please call:
+96 1 70 255 211

Location:
The Courtyard, Makdessi Strass Meeet.
Just by "The Alley way".
Beirut- Lebanon, of course...
This event is on facebook