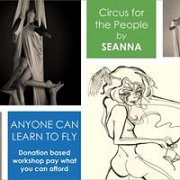 Saturday Mar 11 2017 from 01:00 pm until 05:00 pm

Heart and Soul, Beirut, Lebanon

[See map]
It is with great pleasure that we welcome to Heart and Soul Seanna Sharpe who will be conducting a Donation-Based workshop "Circus for the People" on 11 March 2017.

This workshop is not to be missed.

Kids workshop: 1:00pm - 3:00pm
Adults workshop: 3:00pm - 5:00pm
Workshop is on a donation-based. Pay what you can afford!

Booking is a must as places are limited. Book through www.theheartandsoul.net or text us on 71933007 or through facebook messenger.

CIRCUS TO THE PEOPLE
Founded in New York in honor of the legendary Yoga to the People tradition of offering Donation-Based yoga classes and training for students of all financial backgrounds, Circus to the People is a sliding-scale Circus Arts Class presented by Urban Circus International - and now, for the first time, in Lebanon, in partnership with Heart & Soul in Clemenceau, ANYONE CAN LEARN TO FLY - and pay what you can afford!

Open-Level Introduction may include flexibility, conditioning, Aerial Silks, Cloud Swing, Lyra, Trapeze, Basic Acro-Partnering, Handstands, and more - Learn to climb, wrap, drop, and flip, while finding balance, flexibility, alignment, and strength in your body and mind to spread your wings - and fly.

About the teacher:
SEANNA S - Global Director / Founder (Lebanon)
Seanna founded Aeon Arial Arts after creating over 350 custom aerial acts for clients, including Beyonce, Cirque Du Soleil, and the Guggenheim, ranging from silk solos to spectacular aerial dance sculptures and multi-dimensional theatrical productions.
Followed by international press as an innovative artist of the air, Seanna has choreographed and performed for stage, screen and beyond, as well as developing an education program teaching people of all ages how to fly.

ANYONE CAN FLY!
This event is on facebook