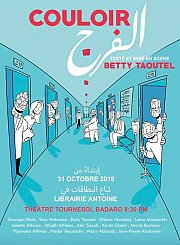 Thursday Dec 19 2019 from 08:30 pm until 11:00 pm

Theatre Tournesol, Badaro,Lebanon

[See map]
COULOIR EL FARAJ, a play by Betty Taoutel

Join us on December 19,2019 for a great night and a great cause. Our joint venture with Mand.ro prosthetic hand makers is ongoing and this year we are hoping to provide myoelectric hands to 11 new beneficiaries.
Help us achieve our goal!
Do not miss the opportunity to enjoy "Couloir El Faraj" by Betty Taoutel and to bring a new and better life to people with an upper limb amputation.

Looking Forward to seeing many of you.

Tickets available at Ihjoz. com and Malik's bookshop.

For more information, call 03248978.
This event is on facebook