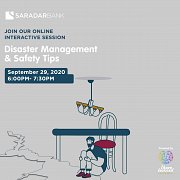 Tuesday Sep 29 2020 from 06:00 pm until 07:30 pm

Online Workshop on I Have Learned Academy

[See map]
Disaster Management & Safety Tips Free Online Interactive Session With Saradar Bank powered by I Have Learned Academy

Saradar bank in collaboration with I Have Learned Academy are hosting a series of online sessions.

Please note that registration is free and mandatory. Limited places available.

Disaster Management & Safety Tips

In this session you will learn fast and effective tips on how to deal with any type of disaster:
- How to deal with an Earthquake
- How to act when you hear an Explosion near by or bombing
- How to deal with a Fire in buildings or vehicules
- Natural Disaster Management and general tips
- Get prepared for unexpected Accidents
- Basic Self-care for injuries while getting to the hospital



About the Trainer

‍
Dr. Gebran Karanouni, President and founder of the SAFER Association, Field Emergency Doctor, Disaster Medicine & Management Specialist, and Safety Consultant. Dr. Gebran is a safety manager, and has an extensive experience in Lebanon and the Gulf. He conducts many workshops across the region about risk assessment, first aid, fire fighting and emergency responses.

He was a trainer in charge of First Aid trainings at the General Security Directorate for three years. In his early career stages, he worked for the Canadian Red Cross Institute as a Field Emergency Doctor and has earned more than 30 medical certifications. In 2007, he has provided first aid courses for all instructors and chiefs of the Lebanese Civil Defense and was a health & safety teacher at the Saint Joseph University in Beirut as well as other universities in the past. He is currently preparing different books that cover the subjects of Safety and First Aid.

Dr Gebran received many awards and appreciations internationally, and is often sharing his knowledge in many awareness programs on TV.

‍Booking information
Session is free of charge but booking is a must on:
https://www.saradarbank.com/s17-new-concept-branch?I#s17-event-container

or by email: info@ihavelearned.me

Free Event but Registration is a must.
Please register only if you are attending as places are limited.

‍This session will be online from the comfort of your home.


Intro on Have Learned Academy:
I Have Learned Academy is a place where you can learn everything that you didn't learn at school!
Check all our upcoming Workshops & Events here: www.ihavelearned.me/events
And follow us on Facebook & Instagram.
‍
For more info or questions contact info@ihavelearned.me or +961.3.614493 (phone or whatsapp).



This event is on facebook