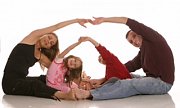 Wednesday Jan 20 2016 from 05:00 pm until 06:00 pm

LifeInspired, Zalka, Beirut, Lebanon
Calling Moms and Dads and li'l ones!

Life has become so fast paced and we can all barely keep up! When do we create time for family bonding and how do we keep everyone interested? By finding an activity that each member can enjoy that doesn't take up too much time for an already over packed schedule.

Seems impossible, right? Well if there is a will there is a way, you just may need to get creative.

Many possibilities exist, but there is one solution that has been tried and tested by many families and has proven to be successful—it's yoga.

Join our super amazing Rainbow Kids Yoga Teacher Diana Farhat for a super fun super spacey FAMILY YOGA class!

WHEN: Wednesday, January 20th
TIME: 5:00-6:00pm
WHERE: LifeInspired, Zalka-Beirut
Cost: $40 per family
*PRE-REGISTRATION Required.
To book your family's spot, call 70126053.
Hurry up as spaces are limited! What would it take to play with all of you and your kiddies?


******************************************
About Teacher Diana "Deedee" Farhat

Diana Farhat is a yoga teacher, therapist, counsellor, English teacher and Cooking teacher! She began her career as a kindergarten school teacher and taught for 6 years. Diana had a chance to volunteer at many youth centres in Montreal, Canada. She then travelled to India to learn about Ayurvedic therapy and nutrition and has been educating people on the emotional effects of food. Diana received her "Kids Yoga" Certificate from Rainbow kids - and is excited to continue her journey of yoga with the children.
This event is on facebook