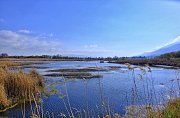 Sunday Apr 15 2018 from 08:00 am until 06:30 pm

Ammiq, Beqaa, Lebanon

[See map]
Hiking Ammiq Wetlands with Lebanese Explorers

📆📍Sunday, April 15: Hiking in Ammiq Wetlands

🚎Meeting point: Jdeideh-metn, behind Sagesse Garden, 8h am (we can pick up hikers along our way). We will have a breakfast stop also.

👕🍎What to get: 2L of water, healthy snacks, light lunch, light jacket, hat, sunscreen, chill vibes

🌳Description: Ammiq wetlands is the largest remaining wetland in Lebanon, a remnant of much more extensive marches and lakes that once existed in the Bekaa Valley. The hike will start at the hill overlooking Ammiq wetlands where we can have a view over the Bekaa valley and then descend and wander in the beautiful Wetlands. Distance 9 kms and moving time 3 hours. Difficulty level: Easy to Moderate.

Price: *35 000* (including 5000 reserve entrance, pullman transportation, guiding, photos)
*30 000* for groups of 4 and more

*Reservation is a must*, call or whatsapp : 03525083 (cancellation is not allowed in the last 48 hours)

All our members have a special discount at Sports Experts!

This event is on facebook