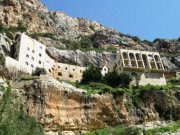 Sunday Dec 23 2012 from 07:30 am until 04:30 pm

Hamatoura/Kousba/Amioun
Hiking in "Hamatoura" with Dale Corazon Sunday December 23, 2012

This hike in Kousba is diversified; you will get the chance to walk along the mountain cliff overlooking the holly valley of Kadisha and the the river bank. You will walk in bare areas.

Due to the topography of the ground, you are bound to ascend and descend some slopes, so the hike will be easy Level 3 and 4.
HIKING LEVEL: 1 to 3 for easy, 4 to 6 for intermediate, 7 to 9 for strenuous
Level 4 will start from the "Castel of Lebanon" and walk down to reach level 3 in the valley by the Company of Electricity in Kousba (hydraulic electric power station). From there you will both cross the river of Holy Valley and take an uphill stony staircase that will lead you to Hamatoura Monastery. This abbey is the "Guardian of the City". It is built in the rocks overlooking great views. The church is the most ancient part, dated back to the 4th century.
The track is not hard, 200 meter up but you will need to be careful. It will be nice to contemplate views at this altitude.

Greek Orthodox Monks will accommodate you and offer you an explanation about the convent's history, their life style and their mission. You can support them by buying handmade foods and icons.

We will go then explore 100 meter underground in the cave to see the beautiful natural stalactites and stalagmites; you should be equipped by spotlights. The temperature inside the cave is 16 degrees all year round; get a jacket to keep you warm. Also, there are places where the water might get your feet wet; get a change of clothes just in case.
Water drops create a unique sort of music in the cave. It is called "Symphony of the Cave". If you close your eyes and listen, you will hear the wonders of nature. This symphony changes according to the season.

Once the visit is done, we will go back to the valley and have lunch by the river. Afterwards we will take bus and visit the Castel of Lebanon and its museum made by different natural things!!!!!!!!!
It will be a nice experience!
Diversified..? Yes! You will encounter mostly everything in this hike!

WHERE: Hamatoura/Kousba/Amioun
In the north
750 meters above sea level.
84 km from Beirut
WHEN: Sunday, December 23, 2012
ENCOUNTER PLACE: Mar Maroun Church Parking, Dora @ 7:30 AM
OUR PRICE: 30,000 LL per person including transport, guides, entrance to museum and insurance.
WHAT TO GET: Get some light snacks that will boost up your energy such as dried fruits. Pack your backpacks with lunch, water, cap, sunglasses and sunscreen. Don't forget to get a jacket. Wear comfortable walking shoes, preferably hiking shoes (Professional brand is recommended). DC members get a 20% discount on sports equipment in Sports 4 Ever (ABC Achrafieh, Dbaye, and Mkalles).
There will be a breakfast stop along the way.
FOR RESERVATION AND INFO: Please Call 00961-70-986118

Note: Ecotourism Rules should be followed like Safety regulations. Otherwise all accidents will not be recognized by the insurance. And occasionally, due to reasons beyond our control, slight modifications to the event may occur.

You can Join our group on Facebook: Dale Corazonيلّا يا قلب (group) and (Page)

Best Regards,
Dale Corazon.


This event is on facebook