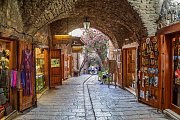 Every Tuesday, and Saturday from 08:30 am until 01:00 pm, Jan 11 2019 to Oct 31 2019

Nakhal & Cie, Beirut, Lebanon

[See map]
Jeita and Byblos with Nakhal & Cie

Our visit starts with the beautiful Phoenician city of Byblos , then continues with the famous Jeita grottos with their fabulous sceneries.

Operated every Tuesday and Saturday at the rate of $75 per person including transportation, entry fees and touristic guide.

Pickup and drop off from/to hotels in Beirut is also available.

In order to have more information about this tour or another daily tour in Lebanon please visit our website: www.nakhal.com

For booking:
You can either book online (www.nakhal.com) or by phone: +961 (0)1 382 444 or +961 (0)3 234747.