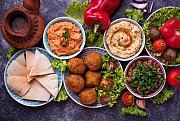 Every day from 06:00 pm until 08:00 pm, May 17 2021 to Dec 01 2021

Gemmayzeh, Beirut, Lebanon
Lebanese Cooking Activity

Do you want learn all the secret behind a tasty Lebanese cuisine. Join us for a hands on cooking activity and discover the various techniques and recipes. We will help you explore the variety of spices and ingredients that this kitchen owns

Our professional chefs will help you explore the step by step techniques used in the traditional Lebanese cuisines for you to be able to cook it back alone at home and make sure that you will end up doing a yummy dishes that you will be very proud of

During this activity all participants will have the chance to prepare and cook the meals that they will enjoy eating afterwards.

Timing : from 6:00 to 8:00 PM

Price : $50 per person ( minimum 3 persons)

PS: Contact us on 03670785 one week in advance to schedule your cooking session date and time to your convenience.