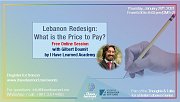 Thursday Jan 28 2021 from 06:30 pm until 08:00 pm

Online Workshop on I Have Learned Academy
Lebanon Redesign: What is the price to pay? - Free Online Session with I Have Learned Academy
In Collaboration with KAS - Konrad Adenauer Stiftung in Beirut

As we are reaching the end of an era for Lebanon political, economic and social system, it is time to re-design the country we aspire to live in. Yet, this will not happen without a price to pay. Let us tap into the design thinking methodology to re-design Lebanon.
Empathize : Who should the new design serve and to solve which problems?
Define: What are the core pillars of the new design that deal with people pain points and leverage their capabilities?
Ideate : How does the new design look like on a social, economic and political level to serve people aspirations?
Prototype: What is a reasonable roadmap to achieve the new design and who should join it, while building on the many existing citizens' initiatives?
Test: What is the social, economic and political price we are willing to pay during the transformation?
Speaker's Bio:
Gilbert Doumit is a founding and Managing Partner of Beyond Reform & Development (BRDI) Group, a mission-driven consulting firm working to establish innovative, inclusive, and participatory policies and institutions in the MENA region.
He is a founding partner of Beyond, specialized in leadership and organizational development serving corporations across the MENA region. His is as well a consultant at Designed Learning USA.
He helped starting up a myriad of businesses including Effiqual Management Consultants in Canada, and recently Beyond Innovation and Technology specialized in digital transformation for governments and international development agencies.
He is a World Fellow (2008) at Yale University and a lecturer at Universite Saint Joseph in Beirut. He has published numerous articles on policy making, governance, and social entrepreneurship
He is sought after as a public speaker at a myriad of international conferences and his work has been featured in international media such as CNN, Huffington Post, and Stanford Social Innovation Review.
He is known for being a social entrepreneur and an activist serving on the boards of multiple NGOs such as the Center for Lebanese Studies, Injaz Lebanon and the Lebanese Association for Democratic Elections. He is a member of Beirut Madinati, former candidate in 2018 parliamentary elections in Beirut I as part of Libaladi Movement within the Ta7alof Watani Coalition lists.
Gilbert holds an MBA from Ecole Supérieure des Affaires (ESA), a Master in Advanced Management from Ecole Supérieure de Commerce (ESC) de Paris, a Bachelor degree in Business Administration, and another one in Community Organization.

This session is part of the Free Online Series Program done by I Have Learned Academy in collaboration with KAS - Konrad-Adenauer Stiftung: "Thoughts & Talks for a Better Lebanon"

Booking ahead is a must, places are limited.
https://ihjoz.com/events/6030#checkout

Intro on Have Learned Academy:
I Have Learned Academy is a place where you can learn everything that you didn't learn at school!
Check all our upcoming workshops here:
www.ihavelearned.me/events

This session will be online from the comfort of your home.

For any question contact info@ihavelearned.me or +961.3.614493 (phone or whatsapp).
This event is on facebook