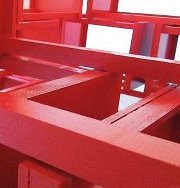 Wednesday Sep 12 2012 until Sunday Oct 14 2012 from 06:00 pm until 09:00 pm

Zaytouneh Square located in Downtown Beirut behind the Starco Building
LIGHT AT THE END OF THE TUNNEL
Lumiere au bout du Tunnel by Nada Sehnaoui

Opening WED 12 SEPTEMBER 2012 - from 6:00pm to 9:00pm
With MUSICIANS: WalkAbout Drum Circle AND Tom Horning

Viewing until Sunday 14 October 2012

"This installation is a large-scale aesthetic gesture, a visceral desire for expression on the political, social and cultural state of Lebanon but also of the region.

"Light at the end of the tunnel" is an expression neither naively optimistic nor nostalgic of a bygone era. One searches in vain for the question mark, as if a statement, rather than a question, having difficulty asserting itself, chooses a more tangible way than words to exist. This gigantic structure needs its title, and vice versa. It is the embodiment of an individual desire first, then of the collective desire of a society which seeks itself, and of problems that merge constantly but that also offer paths to those who want to see a little more light.

"Light at the end of the tunnel" is a vicious circle in search of a way out, a maze just waiting to be entered, an invitation to take a city walk as a first "political act" to reconquer."

This event is on facebook