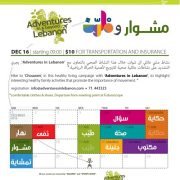 Sunday Dec 16 2012 from 09:00 am until 07:00 pm

Qartaba
"MLAWWAN, A CAMPAIGN FOR OUR CHILDREN'S HEALTH"

Roumana in association with Adventures in Lebanon are proud to be organizing a hiking event targeted to families for our children health.

Join us with your kids on Sunday December 16th to discover the splendid wild nature of Jannet Chouwen valley and river, in Ftouh Keserwan, one of the most picturesque places in Jbeil Caza- The stream that runs down from the mountain flows in "Nahr-lbrahim" known as the river of the god Adonis, (river of immortal love).

In Jannet Chouwen you will experience the pleasure of hiking in the majestic nature, mixed forests with oak, pine and many other plant species, until we reach its marvelous lake known as Jannet Chouwen.

The distance from Beirut to Jannet Chouwen is 40 Km with an altitude of 600 m above level sea.

Hiking trip is about 4 hours, during which we will be resting for some photo shooting in the marvelous wild nature and have a picnic lunch.

Jannet Chouweh Hiking trip is Level 2-3 (Moderate to advanced hike)

Meeting point will be in Fursocope Sin El Fil at 09:00 am- There will be a stop along the way to buy water and food.

Price: a special offer of 10$ per person including transportation, insurance and guides is offered to encourage children & adults to participate in in this healthy living campaign to highlight interesting healthy family activities that promote the importance of movement.

*Bring with you a thermal or heavy jacket to keep you warm, a cap, sunglasses, sunscreen, and wear hiking or comfortable walking shoes. Bring walking sticks if possible- You would also need to get water and some light snacks that will boost up your energy such as dried fruits.

Payments method to guarantee your bookings:

· Audi Bank: any branch to the account number: 023711 to guarantee your bookings- please mention the event name and date along with your name and contact number.

*All Payments are non-refundable in case of cancellation, however, a 100% refund will apply in case of event cancellation.

P.S: due to weather conditions, event might be postponed or location may change.

This event is on facebook