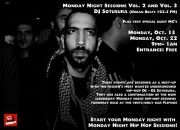 Monday Night Hip-Hop Session Vol. 3 featuring DJ Sotusura

Every Monday RB presents: Monday Night Hip-Hop Sessions

DJ Sotusura (Urban Beats 102.5 FM) on the turntables

Monday, Oct. 22
9pm - 1am
Entrance: Free

In keeping with a local hip-hop tradition started at Ceasar K's/Cat (the Animal)'s old vinyl only spot in Mar Mikhael -FLIPSIDE - these events are designed as a meet-up with the region's most wanted underground hip-hop DJ - DJ Sotusura. We want all the heads to welcome him into the Radio Beirut family.

Start your Monday nights right with Monday Night Hip Hop Sessions

Streaming live at: www.radiobeirut.net

DJ Sotusura bio:
Sotusura holds down 2 highly rated hip-hop radio shows -rone on Beat FM 102.5 FM in Jordan called Urban Beats and the other ->an international hip-hop show called The Art of Rap on NYC-based internet radio called radio 23...

Sotusura has performed with some of the biggest names in the game as well as most of the players in the underground Arab hip-hop scene including but not limited to: Ramallah Underground, Omar Offendum, DAM, Ramcess L'Hamorabi, El Far3i, Khotta Ba, Boikutt, as well as Salah Edin, Wu Tang family member Cilvaringz, and Damon Albarn's Good, the Bad and The Queen MC - Eslam Jawad.
This event is on facebook