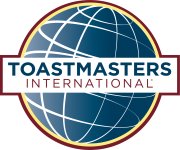 Every Monday from 06:30 pm until 08:30 pm, Jan 11 2021 to Dec 27 2021

Zoom
What is Toastmasters?

Toastmasters International is a nonprofit educational organization that teaches public speaking and leadership skills through a worldwide network of clubs. Headquartered in Englewood, Colo., the organization's membership exceeds 364,000 in more than 16,200 clubs in 145 countries. Since 1924, Toastmasters International has helped people from diverse backgrounds become more confident speakers, communicators, and leaders.

Toastmasters Lebanon is the Area 1, Division A, District 105 of Toastmasters International. It covers the Lebanese territory, and currently comprises 5 clubs: Dhad Club, Loudspeakers, Mercury Club, Speakers & Leaders and Pro-Toast Club. All clubs meet weekly.

Members engage in club activities, taking leadership roles and participating in the meeting's process. All meetings are currently held online on ZOOM, due to Covid-19.

On Mondays, 6.30 to 8.30 PM the Toastmasters club Dhad meet on Zoom. Make sure to reach out to us, if you are interested, so that you receive the meeting invite.

Email us on info@tmlebanon.org

Guests are welcome, and attending as a guest is completely free!