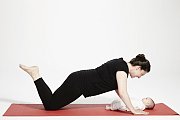 Every Wednesday, and Friday from 10:00 am until 10:50 am, Jun 02 2017 to Jun 01 2018
Every Monday, and Wednesday from 05:00 pm until 05:50 pm, Jun 05 2017 to Jun 04 2018

Sophia Maternity, Raouche, Beirut, Lebanon

[See map]
Postnatal Pilates (kids are Welcome)

After birth, your body continues to change and it's a crucial time for your body to recover from the pregnancy and birth.
Postnatal Pilates can help you to:

Restore your pelvic floor and abdominal muscles

Stretch and reduce tightness around shoulders and back and strengthen your arms muscles to hold your baby (yes we encourage frequent baby holding) :)

Recover from Diastasis Recti

Relieve stress

Babies are welcome to join in the class with you. The class is also a great place to meet another new mums, sharing tips and stories about your new lives and supporting each other.

Even if your kids are older and not babies anymore, you can still join us :)

You can call on 03076276 for more info and you can listen to this interview.