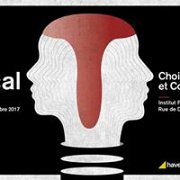 Every day from 06:00 pm until 11:00 pm, Aug 25 2017 to Sep 05 2017

Institut français du Liban, rue de Damas, Beirut, Lebanon

[See map]
Haven for Artists in collaboration with the Institut français du Liban is organising & hosting Radical: a 10day arts fair and gathering from the 25th of August till the 5th of September.

__________________________________________
August 25th
▷Exhibition opening:

◤Music:
▷ Mr. Roquentin

◤Drawing:
▷ Georges Torbey

◤Installation:
▷ Cornelia Krafft / Artist, Choreographer

◤Photography
▷ Nada Ammous
▷ Ghaleb Hawila
▷ Munir Abdallah
▷ Paul Hennebelle

◤Painting
▷ Alireza Shojaian
▷ Sandy Kastoun
▷ Diana Halabi
▷ Negin Fallah

◤Painting + Live Perfromance Art
▷ Mirella Salame
▷ Helena Yung

◤Sculpting
▷ Petram Chalach

Free Entrance
__________________________________________
August 31st
Screenings and Panel Discussions:

◤Screening Curator:
▷ Omar Sfeir

◤Panelists
▷ Maia Hel //Maya El Helou
▷ Sally Chamas


◤Short Film Directors:
▷ Eli Jean Tahchi - The migrant mixtape
▷ Antonius Ghosn - L'Enfant de la Nuit" "Son of the Night" "
▷ Georges Hazim - Ana
▷ Eli Salameh - Vole Mon Amour (fly my love)
▷ Maya Dagher - Saros 134
▷ Krystel AK - Ombre
▷ Nour Al-Moujabber - Le ruisseau
▷ Lama Chebib - Breath in
▷ Malak Mroueh - Visage(s)
▷ Davina Maria Khoury - Fragments d'un amour
▷ Carl Haddad - My name is

Free Entrance
__________________________________________
September 2nd
◤ Concert & Performances:

▷ Ovīd
▷ Khansa/خنسا x Mohamad Zahzah
▷ Renu
▷ FLUGEN
▷ The Ball
◤Dancers:
▷ Hoedy Saad
▷ Hannah Chaaya
▷ Vicken Ko
▷ Siwar
▷ Kevork Krikor Tavitian
▷ Sophia Shokor
▷ Ines Boulaaba
▷ Nour Abi Akar
▷ Arina Pulman

◤Drag Queens:
▷ Lidia Blew
▷ Evita Kedavra

◤Visuals and Music
▷ Rouba NourEddine

Concept and Design: Stephanie Richa

20,000 ll Entrance
Please bring your ID for all days
Security is present yet all they require is ID (of any kind)
________________________________________________________
◤ Radical intends to question the personifications of common understanding or subjection and inspect the extremes that exist in identity, gender, self annihilation, freewill and self realisation within urbanization. Radical is a program of ongoing exhibitions, screenings, performances and concerts. Extremes are a definitive part of Middle-Eastern culture and politics, which has led to unwritten, yet abided-by laws, or understanding of the singular within the whole. While Church and State have yet to host their speeches in different forums, artists must examine that which has already been categorised by constantly questioning its merits, validity and purpose, and to seek the core of its limitations.

The ways that we behave and express ourselves are shaped by the cultures in which we participate. Since the mid-Twentieth century, philosophers, social scientists, and historians have theorised that the roles, characteristics, and activities which define our thoughts and choices are not innate, but rather socially constructed. Behaviours thought to be opposing extremes differ from one culture to another and across time periods.

Radical will bring together artists who will examine, question, and criticise the extremities of the human psyche and the many vulnerable or understated struggles and/or oppressions that are associated and bred into normalcy.

Radical hopes to elaborate the extremes so that we may seek a common ground in a comprehensive exhibition which highlights the outer-most-bounds. Through this, we hope to present an examination on how individuals are socially inclined to extremes, often as a consequence of choice that is driven by a social convention. We hope to entice a certain curiosity which questions the grounds on which certain misconceptions and categorisations have persisted. Artists will open a new world of inner inspection that aims to illuminate the many layers of the human social condition. The extremes will be that of a spectrum; one that aims to highlight the negative, the positive and the lacking, in order to reach a higher understanding of the consequential.


◤ Curator's text

The world has tugged on many strings, some that have loosened and some that have tightened. The human state has tasted both the friction of those that it denied and the succession of those it has welcomed, leaving one to question the variables and the in-betweens.

This exhibition will reflect what our society has either omitted, misconceived or accepted as reality. Beirut artists will come together with the international community to produce radical pieces of work which examine and define the inner workings of choice and the consequences which stem from following these paths. Artists are asked to portray the extremes of gender, identity, self annihilation, freewill and urban realisation.

Radical is an examination of the psyche that rises above censorship and reproach, reflecting on how behaviour and actions become unconsciously premeditated due to conditioning and the predisposition to classification. We believe that if one examines the core of social stigmas, then one must discover the false concepts of 'being' and 'will', and examine the social constructs of 'them' which influence 'I'.

An artist must reflect the complexities and simplicities of their time, and therefore must understand the extremes found in reasoning and the consequences which follow.

Le monde a tiré sur plusieurs fils, certains se sont desserrés, d'autres renforcés. L'humanité s'est confrontée à la fois à ceux qu'elle a reniés, et à ceux qu'elle a accueillis successivement, laissant en question les variables.
L'exposition reflètera ce que notre société a à la fois négligé, mal interprété ou accepté tel quel comme une réalité. Les artistes de Beyrouth se joindront à la communauté internationale pour produire des œuvres radicales qui examinent et définissent les processus internes de choix et les conséquences qui résultent de ces réflexions. Il a été demandé aux artistes de représenter les extrêmes des questions liées au genre, à l'identité, à l'auto-destruction, au libre-arbitre et à la réalisation urbaine.

Radical est une analyse de la psyché qui s'élève au-delà de la censure et du reproche, reflétant la façon dont notre comportement et nos actions deviennent inconsciemment prémédités dus au conditionnement et à une prédisposition à la catégorisation. Nous sommes persuadés que si l'on étudie l'essence des stigmas sociaux, alors on doit découvrir les faux concepts d' « être » et de « volonté », et analyser les constructions sociales de « ceux » qui influencent le « je ».
Un artiste doit représenter les complexités et les simplicités de leur temps, et ainsi comprendre les extrêmes fondés par la raison et les conséquences qui s'ensuivent.
This event is on facebook