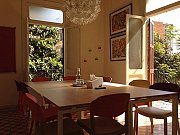 Every Saturday from 10:30 am until 01:30 pm, Oct 11 2014 to Nov 01 2014
Every Monday, and Wednesday from 05:00 pm until 08:00 pm, Oct 08 2014 to Nov 03 2014

SKILLZ Beirut, Gemmayze, Achrafieh, Beirut
SAT monthly courses at Skillz

At Skillz our SAT classes are taught by experienced teachers. All our teachers have extensive SAT experience and are familiar with the strategies needed to excel in SAT.

Our small classes (max 10) encourage participation and guarantee individual attention.
Our inspiring classrooms, enthusiastic and professional teachers have a motivating effect on the students.

An assessment test is given at the beginning of the SAT course, to assess the strengths and weaknesses of each particular group. At the end of the course a mock SAT exam is given to assess progress. Following the exam the student will have an individualized session with the teacher to review the exam and plan how to continue preparing for the SAT.

For more information and registration: 01-584234

Check the official exam dates and our matching schedule!