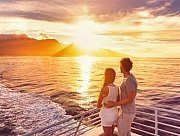 Every day from 05:00 pm until 07:00 pm, Apr 25 2021 to Oct 31 2021

marina Dbayeh, Dbayeh, Lebanon

[See map]
Enjoy a private cruise on a sailing boat sipping your favorite
drink with your loved one under the stars.
This is a Romantic Must Do for Honeymooners, Lovers or
Marriage Proposals, and one of the most memorable evenings.

Price for two hours : 3.000.000 L.L



Contact us on 03-670785 for reservation 48 hours in advance to schedule your activity's date and time at your convenience.