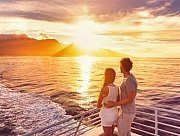 Every day from 05:00 pm until 07:00 pm, Apr 25 2021 to May 14 2021
Every day from 05:00 pm until 07:00 pm, May 15 2021 to Oct 31 2021

Zaituna Bay, Beirut, Lebanon

[See map]
Sunset Sailing for TWO

Do you want to leave the love of your life speechless? This out of the box proposal idea is just for you.
Imagine yourself with your loved one on a private sailboat, along the Mediterranean sea, watching the sunset, sipping champagne and listening to your favorite . This magical setting will surely leave you with a definite YES!!

This Offer includes the following :
– Dinner for Two

– 2 hour sunset boat trip

– 1 Heart shaped cake

– 1 Bottle of sparkling wine

– Special decoration

Contact us on 03-670785 for reservation 48 hours in advance to schedule your activity's date and time at your convenience.