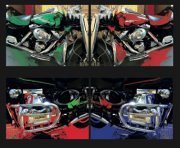 Wednesday Nov 07 2012 from 06:00 pm until 09:00 pm
Thursday Nov 08 2012 until Friday Dec 07 2012 from 01:00 pm until 07:00 pm

Espace Kettaneh Kunigk (Tanit) - Gefinor Center, Bloc E, Clemenceau - Beirut, Lebanon
Espace Kettaneh Kunigk (Tanit) cordially invites you to the photography exhibition

"Suspended Reality"

by Sylvio Tabet

Opening : Wednesday November 7, 2012 from 6pm till 9pm
The exhibition will be on view till December 7, 2012



Very few people get a chance to realize their lifetime dreams to the fullest, yet every once in a while along comes a person who does just that. With an impressive career that has spanned 40 years, Sylvio Tabet happens to be one of those people.

Sylvio Tabet has directed & produced more than 400 commercials worldwide and classic feature lms as Bilitis, Cotton Club and the Beastmaster franchise. He also co wrote with best selling author Richard Knaak, the novel " Beatsmaster MYTH". His spiritual book " A Journey to Shanti," was blessed by the Dalai Lama.Yet photography has always been one of his major mediums of expression.

When he's not creating out of Los Angeles or Beirut, he travels the world with his camera capturing his magical and mystic experiences. His current photography show (Mannequins and Bikes) is a fresh and colorful depiction of two elements that seem to set the imagination free. One element is a dynamic representation of macho machine while the other although a lifeless object seems to have a life o ts
own. Tabet admits he has always been fascinated by a Mannequin's frozen and eternal gaze. "As if they are humans trapped in a cast or future robots with perfect features," he says.

"Attracted by vibrant colors and big format, his
photographs are a statement."
"…I like painting, I use the modern technology to
create a photo painting , I use a brush, a digital one
to mix my colors and sign my Art…I love Diptych , the Ying and Yang, the opposite
creating unity…Black and white : mysterious, intricate, zones of gray and white,…so subtle, intimate, a dicult ,still
exciting way to explore .."

His vision and versatile techniques are clearly upbeat and fresh allowing the audience their own personal interpretation of a composition rather than an imposing one.



This event is on facebook