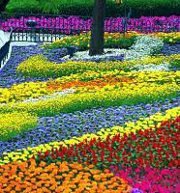 Tuesday May 29 2012 until Saturday Jun 02 2012 from 04:00 pm until 10:00 pm

Beirut Hippodrome
Beirut's "Garden Show & Spring Festival" has become the awaited event of spring in Beirut.

In a relaxed atmosphere, a large public of visitors gathers and strolls among the beautifully appointed stands to shop for their gardens and outdoors and benefit from expert advice on gardening and other specific matters.

Coupled with an extensive array of garden and floral retail products, great food and entertainment for the whole family, The Garden Show & Spring Festival is a celebration of the great Lebanese outdoors lifestyle.


We are happy to announce that The Garden Show & Spring Festival will take place from 29 May to 2nd June 2012 at the Beirut Hippodrome and will be held under the theme of "The Green Attitude".

Green is no longer just a color. It is synonymous with behavior; a new way of living. We all have to input our green initiatives to make a better world.

Featuring over 220 exhibitors varying from landscape design and nurseries to gardening tools and outdoor furniture as well as other different sections related to the outdoor living, The Garden Show & Spring Festival offers something for everyone.

The event attracts more than 22.000 buyers and garden lovers looking forward to this gardening event each year.

This event is on facebook