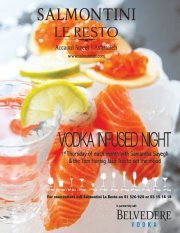 Thursday Oct 04 2012 from 08:00 pm until 02:00 am
Thursday Nov 01 2012 from 08:00 pm until 02:00 am
Thursday Dec 06 2012 from 08:00 pm until 02:00 am
Thursday Jan 03 2013 from 08:00 pm until 02:00 am

Salmontini, Achrafieh - Accaoui, Beirut, Lebanon
Salmontini Le Resto Launches a Brand New Culinary Experience & Introduces Belvedere, the World's first Premium rate Vodka into the Mix

Salmontini Le Resto, Accaoui Slope, Achrafieh, is no stranger to exceptional cuisine. This fall it builds on its reputation for fine dining when Belvedere, the World's First Premium Rate Vodka is fused with specially marinated salmon dishes. The result… a party filled with mouth-watering salmon, Belvedere premium vodka, and an assortment of live Jazz & Blues bands.
Salmontini Le Resto is on course to offer its guests a brand new and unique culinary experienced based around two main ingredients – salmon and vodka.

12 events throughout the year promise to showcase live Jazz and Blues bands, the kind of salmon dishes Salmontini le Resto is renowned for, and, of course, Belvedere, the world's first premium rate vodka, which our executive French Chef Jerome Anfray and Chef Bassam Harfouch utilizes to concoct unique and wonderful new dishes for the event's set menu.

The Vodka Infused Night event launches Thursday, October 4th and every 1st Thursday of each month thereafter at Salmontini Le Resto, Accoui Achrafieh. This is a reservation-only event. To book a table, call Salmontini Le Resto: 01/ 320 920. Mobile: 03/151616.

This event is on facebook