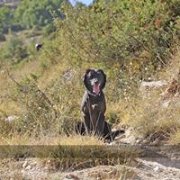 Saturday Oct 22 2016 from 09:00 am until 06:00 pm

Falougha, Lebanon

[See map]
Walk with your dog day 1 / Marche avec ton chien jour 1

Un nouveau projet de Tourleb en collaboration avec la Lebanon Mountain Trail Association (LMTA) جمعية درب الجبل اللبناني (LMT), BETA - Beirut for the Ethical Treatment of Animals & Animals Lebanon.

Découvrons ensemble avec nos chiens (si vous n'en n'avez pas, vous êtes les bienvenus, tant que vous n'avez pas peur des chiens) les magnifiques sentiers de la LMT.

Les sentiers seront de 6 à 10 Kms. Cette première experience sera facile à modérée et débutera dans le village de Falougha.

15 $ de chacune de vos participations iront également en donation à ces 3 ONGs.

_________________________________________________

Tourleb created this new project in partnership with the Lebanon Mountain Trail (LMT), BETA & Animal Lebanon.

We take you along the amazing trails of the LMT, with your dog. (if you do not have a dog you are very welcome as long as you
are not afraid of dogs).

The hikes would be from 6 to 10 Kms each. This first experience will be easy to moderate and will start in the village of FALOUGHA.

15 $ of each of your participation will be equally divided among the three partner NGOs.

Points de Rencontre / Meeting Points
7:30 AM: Chez Paul, Maameltein;
7:45 AM: Demergian, Dbayeh;
8:15 AM: Philips, Sami el Solh.

Prix /sortie incluant
Price / Outing including
visit(e)s, mini-pullman, petit-déjeuner/Breakfast, déjeuner/lunch, guides, activités/activities, entrées/entrances
Assurance non incluse / Insurance not included
80 000 LL Adulte /Adult
75 000 LL Étudiant / Student
60 000 LL moins de 12 ans / Less than 12
GRATUIT moins de 5 ans / Less than 5 years
5 000 LL CHIEN / DOG

PLEASE NO NEGOCIATING THE PRICE. THE TRANSPORT MUST BE INCLUDED AS THE BUS DROPS US OFF AT POINT A AND PICKS US UP AT POINT B, AFTER THE HIKE.
SVP LES PRIX NE SONT PAS NEGOCIABLES PUISQUE LE BUS NOUS DEPONSE AU POINT A ET PASSE NOUS CHERCHER AU POINT B A LA FIN DE LA MARCHE.

La sortie n'aura pas lieu pour moins de 8 personnes, a moins d'accepter le changement de prix qui s'ensuit.
The outing will not take place for less than 8 people, unless the participants accept the change of price.
Minimum : 8 pers. & 1 dog/chien
Maxmum : 20 pers. & 8 dogs/chiens

RSVP ASAP
70 48 45 45

NOTES:

1- Toutes les sorties doivent être payées à l'avance. Si vous faites une reservation sans annuler 5 jours à l'avance, vous devez payer le plein prix
All outings must be fully paid before the events. If you make a reservation & don't cancel 5 days in advance, you have to pay the full price.

2- Nous acceptons les cartes de crédits (sauf American Express)

We accept Credit Cards (except American Express)

3- Pas de rabais pour cette sortie
No offers for this outing

4- Vous pouvez faire vos paiements dans toutes les BLF au Liban
You can Make your payment in any BLF Branch in Lebanon
Nom du Compte / Account Name ELECTROCHOCKS S.A.R.L
Numero de Compte / Account Number
017726195003840 pour / for USD
017726195003422 pour / for LBP

5- Tous les chiens doivent etres tenus en laisse. Les chiens agressifs doivent avoir une museliere. SVP prevoyez des sacs pour ramasser apres votre chien. Vous etes responsables du comportement de votre animal.
All dogs must be on a leash. Agressive dogs must have a muzzle. Please have your poop bags with you. You are responsible of your dog's behavior.
This event is on facebook