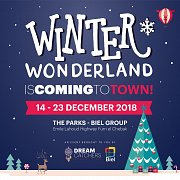 Every Monday to Friday from 04:00 pm until 12:00 am, Dec 14 2018 to Dec 23 2018
Every Saturday to Sunday from 12:00 pm until 12:00 am, Dec 14 2018 to Dec 23 2018

New Biel, Furn El Chebbak, Beirut, Lebanon

[See map]
Winter Wonderland Beirut 2018

Get into the Christmas spirit as Dream catchers Events and Biel Group bring, Winter Wonderland, the world's largest and most renowned Christmas event to Beirut.

From thrilling rides and ice skating to charming Christmas markets and family shows, join in the seasonal fun at Winter Wonderland Beirut Edition from Dec 14 till Dec 23 at The Parks - Biel Group Furn el Chebak.

Discover more than 6000 sqm at Winter Wonderland Beirut Edition and get top tips to make the most out of our indoor and outdoor experience!

▪ The Strasbourg Square: Right at the center of our venue, a breathtaking Christmas tree filled with enchanting spirit!

▪ The Cosmo Alley: Beirut will be voted this year's Christmas party capital!

▪ The Delicatessen Alley: Restaurants, bars and food stalls bringing you tasty Christmas food, mulled wine and warming hot chocolate. Managed by Caravan Beirut

▪ The Designer Market: Explore our traditional Market and shop for unusual and unique gifts, arts and crafts, trinkets, jewelry and decorations.

▪ The Hope Alley: People line up at our Hope Alley to meet our partner NGOs and make Wonderland a daily reality!

▪ The Kids Area: Offer your kids plenty of activities at our magical 2000 sqm Kids Area:

Winter Wondertown: Experience Lapaland, the home of Father of Christmas. Interact with Christmas characters, Gingerbread cooking, facepainting, handcrafts and much more! Visit the post office, write a letter to Santa and make your wishes come true. Santa's home has never been so close!

Inflatables: The largest variety of inflatable games: Giant Sling Shot, Radical Rush, Clown Land, Race to Top Challenge, Bungee Trampoline, Mechanical Rodeo, Archery, Paint Ball Shooting and Escalade Wall Climbing.

The Cosmic Dome: Our Dome offers the audience to experience the virtual world of the outer space. We will take you on an astonishing virtual trip to the Planets, Galaxies, Black Holes and everything there is in the Universe! These planetariums provide a spectacular 360 degree immersive experience.

Amusement Rides and Arcade Games: Family fun is what we're all about at Winter Wonderland. So get ready to let loose and laugh with our Carousel, Train, Dragon Ride and Flying Planes.

Beirut by Bike: The best way to explore Winder Wonderland is by bike. Discover this magical place while practicing a fun and beneficial sport!

Ice Skating Arena: This fun take on one of Lebanon's most quintessential Christmas experiences is a must-try! Benefit from the most amazing and unique ice skating experience at our 250 m2 real ice rink.
This event is on facebook